After someone saw my BAG building data movie
he asked if it would be possible to create an interactive map of the entire Netherlands. This made me think, since creating the movie was a very time consuming action. The problem is that there are about 6 million buildings in the BAG database. This makes the data a bit unwieldy to use directly in the browser. The old fashioned way to do time series on maps involves creating a new layer for each time-moment (year in this case). This would mean that there would be over 150 layers to be loaded on the map and switching between those for the 'time sliding' effect. Apart from the hideous task to set up 150 almost the same layers, it would end up with too much images for a browser to handle.
However modern browsers have the <canvas> element. This element allows for the manipulation of single pixels within this element. So I figured if I could encode the building-dates in a PNG and use canvas to display only those pixels which represent a building older than the given date it should be possible to time-slide through the buildings. Fortunately the fancy new mapping library Leaflet.js has a canvas tile layer build in. The BAG data is already available through EduGIS, so I only needed it to encode the data differently in the PNGs.
The encoding is very simple: per pixel there are 4 values available: red, green, blue and alpha. Since I only needed to encode 200-odd values I used just the red value. The years before 1850 are encoded as groups, since the data is so sparse, after 1850 each year is individually encoded. This means that from 1850 onwards the red value increases with 1. The client retrieves the encoded PNGs as normal tiles and look like this: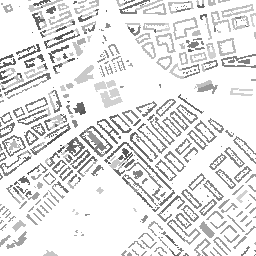 The image appears grey because I kept the green and blue values of the PNG the same as the red. This image is loaded into canvas and the imageData is retrieved using ctx.getImageData(0, 0, 256, 256) and stored as a jQuery data object on the canvas. This is important, since for visual effect we will manipulate the imageData on the canvas and we want to keep track of the original values. Once the imageData is attached to the canvas the colors are being calculated. It will take the original values, compares them to the current year and will decide whether or not to show the pixel and in which color.
Since only the grey tile is needed, the actual sliding through time is really fast because it doesn't need to retrieve more data. With 4 bands of 255 values each you can encode an insane amount of data into a PNG, readily available through canvas for direct manipulation. Apart from time sliding, is detailed representation of DEM data an obvious use case.